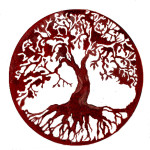 Nine years ago I retired to this beautiful farm, set in some of the best vineyards in the world and surrounded by natural Australian bush with wildflowers and many varieties of Australian birds. On the farm I have established fruit orchards, olive trees, citrus trees, alpaca, poultry and sheep, surrounded by wildflowers, wild birds, wonderful natural bush land. For a history of the farm up to May 2009, look up Tingrith history. I have designed and built what can only be described as a luxury holistic retreat so that others can enjoy this Paradise – a place for people to come together, meet each other and relax and grow spiritually. There is a Facebook page for  Facebook messages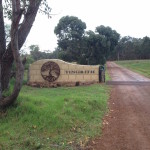 Tingrith is a 118acre farm property with 50 acres of natural bush, adjoining the State Forest, 15 minutes drive from Margaret River. The name Tingrith comes from a little fishing village in Bedfordshire where Felicity's forebears on her mother's side started making Tanqueray gin.
The lu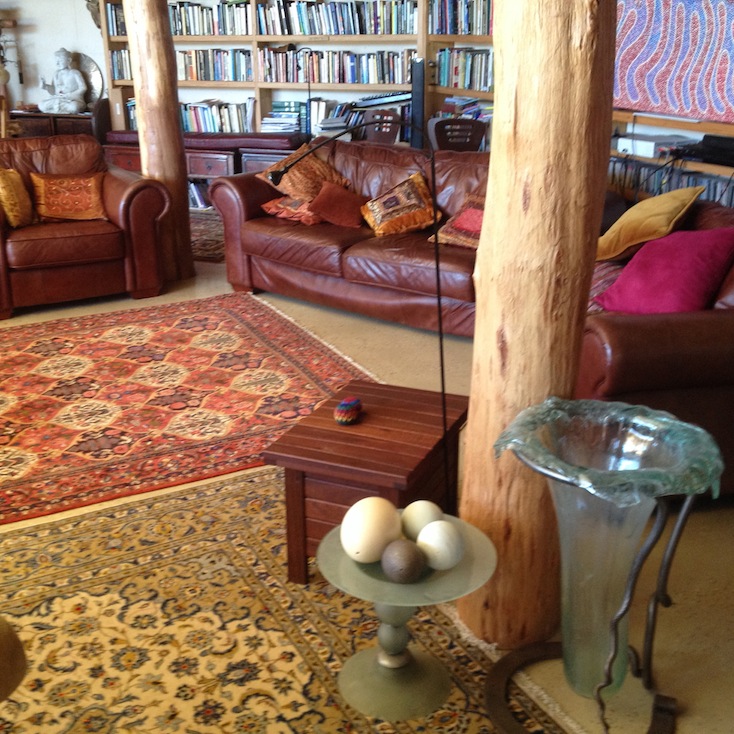 xury meetinghouse was built in 2010 for workshops, bushcamps, family holidays, weddings, celebrations, meditations,  rural retreats, based on the premise that philosophy begins in wonder, and wondering together builds communities.It has a library of nearly 4000 books.  It overlooks a 35m diameter labyrinth based on the Chartres maze, and there is also a smaller seven-turn labyrinth based on the dancing goddess Gaia.  There is an enormous teepee and sweat lodge overlooking the proposed unsuccessful coal mine next door.  It is called a meeting house because it has been designed around a central fireplace in the spirit of a bora ring, a Tibetan yert, a mediaeval mote house, for people to meet together to build a sense of community.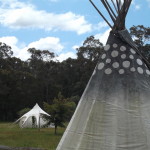 Celebrating together  The Tingrith meetinghouse can be used for weekend residential workshops, ranging from spiritual retreats, permaculture groups, art classes, art exhibitions, ecological bush walks, bird watching. It can accommodate from eight to 15 people in luxury dormitory accommodation set in natural Australian bush. Tipis and camp sites are available for residential workshops or camps on the weekend.For larger groups there is a wide range of nearby short term accommodation. For details of the workshops or to book a place in current workshops If you want to offer a workshop, or book for an event go to bookings or contact me, Felicity Haynes, on tingrith63@gmail.com. There are regular celebratory rituals held on site, including the summer and winter solstices and the equinox.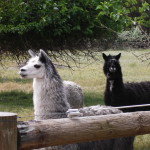 Growing together  The farm is organic and fast becoming self-sustaining with a wide variety of fruit trees, poultry, sheep, cows and alpaca. It has an experimental Food Forest which is being enjoyed by the resident kangaroos, especially the avocadoes. .Maybe we should train the roos to hunt for truffles??  It has been a location used for Transition Margaret River and permaculture workshops. It is planned to make it a site for all those who want to care for the land, share local resources, and celebrate diversity by working together to make this area resilient and sustainable.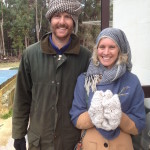 Thinking together One of the main reasons for building the Tingrith meeting house was to bring people together convivially in the spirit of building community. Where people celebrate their differences through dialogue, they learn to defend their own beliefs with good reasons, and make their own judgements about novel ideas or ways of living. In other words they learn to think well, to be philosophers in their daily life. Tingrith holds regular thinkfests, open to the general public, on the third Sunday of every month, as well as professional development courses for teachers.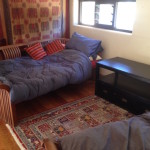 Accommodation    The meetinghouse is excellent for large family groups or small social groups who wish to spend time together in a setting which encourages getting to know each other. The building contains a large library with a wide range of reading interests including cooking books, philosophy, education, science, art, psychology, spiritual wisdom, literature, especially Australian literature. There is a maximum stay period of five days, on weekdays only. Recently we have renovated the shed close by, putting in a commercial kitchen, hot showers, a barbecue area and room for at least 10 more in dormitory accommodation, plus a double bedroom, and a room with two single beds. It is  now called the studio. We hope to use these for school camps during term time, to let kids learn more about the bush. We also have four LotusBelle tents, and five very roomy tipis which can be rented out.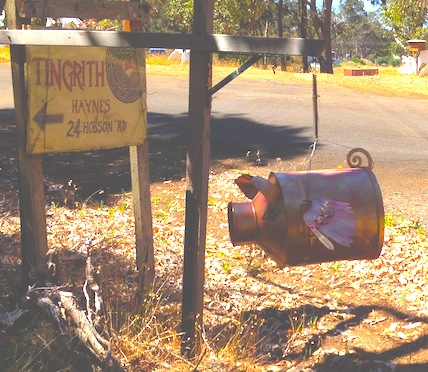 How to get there: Travel east along Osmington Road, cross over the Jindong-Treeton crossroad and the signposted turnoff to Tingrith, with a pink flying pig letterbox, is to your left about 3 kms past the crossroad, at the foot of the hill. If you reach the gravel road, you've gone about 500ms too far.
Contact Felicity Haynes on 08 97574014
PO Box 1449, MR 6285
tingrith63@gmail.com
Visit and feel the spiritual connection to the land on this beautiful property. There are wonderful energy vortices in the most unexpected places.